BIO knuckles under ... and bites back
New Regulations and Old Hacks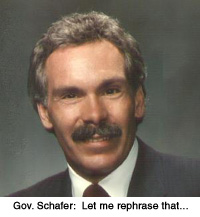 (3 May - Cropchoice News) -- Wednesday was a rough-and-tumble day in biotech politics in Washington. What it means for rural America is far from clear. In duelling stories, the biotech industry gave about as well as it took - getting a regulatory body blow; but striking back with an announcement of new political allies.

The bad news for industry is that the Clinton Administration announced new rules that will require companies to get FDA approval before commercializing biotech foods. Before now, the FDA process was voluntary. It amounts to a defeat for the Biotechnology Industry Organization (BIO), which had lobbied long and hard that biotech foods didn't require the mandatory approval.

Industry is eager to halt the erosion of consumer confidence in biotech foods, however, so BIO put the best spin it could on the announcement. Doing a flip-flop, BIO Director Carl Feldbaum said he would go along with the policy, admitting "if the steps announced today serve to further strengthen public confidence... then they must be considered appropriate and positive."

Environmentalists aren't altogether happy about the announcement either. They are suspicious and want to see how FDA implements the policy. Most want mandatory labels on biotech food, which could be a kiss of death. The government announcement only calls for labelling guidelines - not any mandatory requirements.

But the news wasn't all bad for biotech. At a press conference on Tuesday, a pro-industry corral of thirteen state governors presented the new "Governors Biotechnology Partnership". The Associated Press quoted North Dakota governor Ed Schafer saying he joined the Partnership because the public should know "this isn't just the big, bad chemical companies trying to engineer something to jam down your throats." Governor Schafer surely meant to help industry with his words; but he drew attention to precisely the problem causing biotech crops to be so poorly received by consumers.

Governors in the partnership are Tom Carper (D-DE), Mel Carnahan (D-MO), John Engler (R-MI), Kenny Guinn (R-NV), Jim Hunt (D-NC), Mike Johanns (R-NB), Dirk Kempthorne (R-ID), Gary Locke (D-WA), Frank O'Bannon (D-IN), George Ryan (R-IL), Ed Schafer (R-ND), Tommy Thompson (R-WI), and Tom Vilsack (D-IA).

Sources: AgWeb, Associated Press, BIO.